MISSION: IMPACT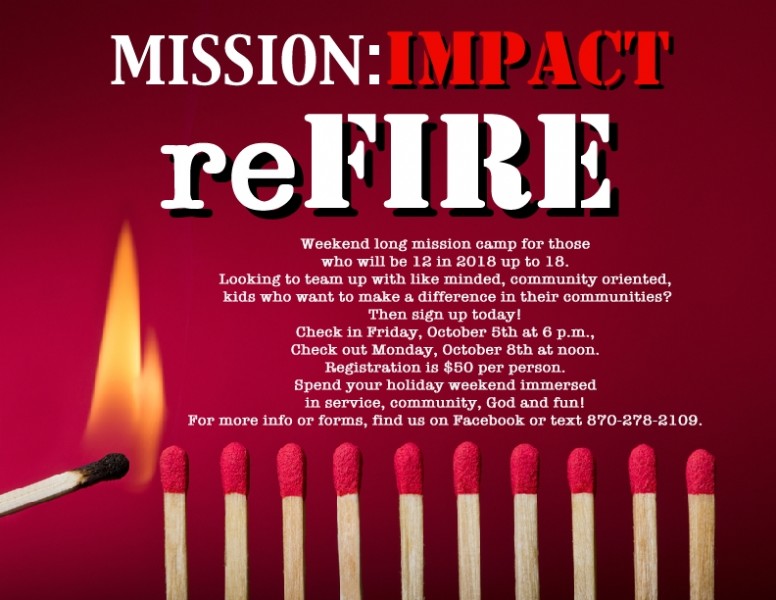 Mission:IMPACT made such a difference that we are doing it again! October 5-8, join us for a holiday weekend retreat at reFIRE!!
Campers ages 12-18 are invited to sign up for this missions camp experience they won't forget. Campers will check in Friday evening before services. On Saturday morning their teams will go into communities all over Pemiscot County to serve others. Painting, building, delivering food, making repairs, cleaning, visiting, you just never know what your mission field might entail each day but you can guarantee it will be a blessing.

When you arrive back to our home base, enjoy delicious meals, great recreation times, special classes and of course, God filled services! Each night we will lay our heads down in segragated bunk areas on campus.

The registration fee for this weekend retreat is only $50 and includes lodging and food. Checks should be made payable to Agape Worship Center. All applications and fees must be submitted no later than September 2 HOWEVER...spaces may fill before that so get yours in soon!

What to bring:
Bible and Notebook
Appropriate Work Clothes for day
Appropriate Service Clothes for night (we like to be comfortable in jeans but please no spaghetti straps, off the shoulder shirts, belly shirts or overly short skirts or shorts.)
Air mattress, cot or sleeping bag
bedding/pillow
towels
bathroom supplies
PJs
Closed toe shoes for work
$10 for concessions
A great attitude!!
To sign up, click here, fill out the application
and email it to micontrolcenter@gmail.com or fax it to 573-333-2307.
You can also snail mail it to:

Agape Worship Center
2536 N. Hwy K
Hayti, Missouri 63851.
For additional information or any questions you may have, please email us at micontrolcenter@gmail.com or call 870-278-2109!