About AWC
Thank you for visiting our website! We also welcome you to visit our church services. For your convenience, Agape Worship Center may be reached in the following ways:
Visit us: 2536 N. Hwy K - Hayti, Missouri 63851
Email: agapeworshiphelpcenter@gmail.com
Phone: (573) 359-2695
Write: 2536 N. Hwy K - Hayti, Missouri 63851
Facebook: https://www.facebook.com/MakeTheImpact/
Instagram: https://www.instagram.com/roctheimpact/
To view the ministries at Agape Worship Center, click here!
To view the outreach ministries that Agape Worship Center supports, click here!
OUR MISSION:
To REACH OUT and welcome everyone we meet by extending to them the love of Christ through His holy word.
To HELP and assist others through the meeting of basic needs as the Lord prospers us.
To LOVE people of all cultures, denominations, and races. John 3:16
Our Vision:
First, Our vision is to reach the lost with the Gospel, which is the Good News that Jesus is the Savior and without Him there is no hope. Also, we want to reach the broken-hearted - those that have been hurt, bruised, beat down - to let them know that there is restoration in Jesus Christ and this body and to let them know they are important and loved by somebody. A very important part of our vision is to let God's Love - which is Agape - to be our banner to whomsoever.
Part of our vision is to accept the nobody's - the rejects of society that no one else wants and minister the love of God to them and see the goodness of our God be ministered to each of them. We want to take the unfunctionable in the eyes of the world and feed them God's Word and teach them to function and give God the glory.
Another very important part of our vision, is to reach the children and the teens for the Glory of God. Within this vision, we have built a youth multipurpose building as a tool of helping reach the young and also providing something for them to do and a place of Godly habitation with Godly supervision in playing basketball, volleyball, walking, hanging out, fellowshipping, music with a Godly Message and more. It is to be a gathering place for kids to come. Also, in the scope of this is to provide for all ages this tool or building especially during winter months. We desire to do all this for the Glory of God.
At Agape Worship Center, our first priority is always to be a beacon to the lost, healing to the broken and hope to the hopeless by sharing the Gospel of Jesus Christ. We want to continue to be a place where people can come as they are, where they can feel at home and can praise and worship Him as the Holy Spirit leads them.
Our goal is to preach the Good News, that only through Jesus Christ is hope found, to learn to align our lives according to His Word to prepare for His return and eternal glory. We will help others and ourselves to find God's plan and purpose in our lives by strengthening our connection to Him and using our giftings for Him.
We will open our doors to all and will love them and provide soul care to them while surrounding them with laughter, fellowship and hope, so they can experience the love of God and the joy of serving Him and others. So they can experience true Agape.
We will do this through preaching, teaching and play. In all we do, we will give God the Glory. We will continue to provide a place for all, by providing something for everyone through Godly classes, sports, events, plays, concerts, camps and more.
We will follow the word of God which says, "Go into all the world and preach the gospel," by offering food giveaways, community events, mission trips and will consider ourselves blessed to go wherever God may lead us, under the authority of our Pastor.
We will be open and ready for what God has called us to do. We will grow in spiritual maturity, in number and in faith as we follow the prophecy God has laid before us. And we will continue to grow in size, with a theatre, camp ground and more on the horizon. And through it all, we will give God the Glory for what He has done!
Pastor James and Darlene McCulloch: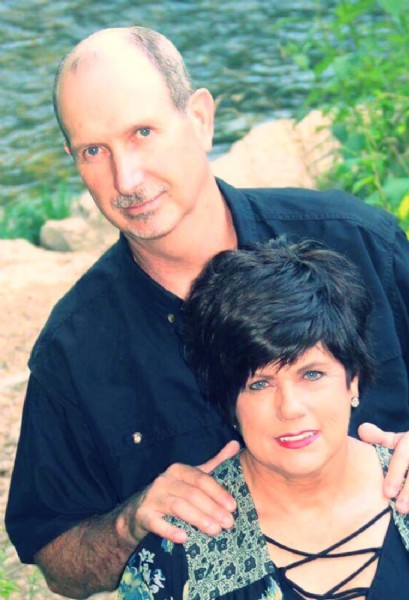 Pastor James "Shack" McCulloch was saved at the age of 28 years old. Although raised in church from birth to young adulthood, he never established a personal relationship with Christ. Through much rebellion, turmoil, and confusion James lived an empty and unfulfilled life, totally oblivious to the calling that God had on his life. He had bitterness, rage, and jealousy brewing on the inside of him. At the age of 19 years old, James was severely injured in a motorcycle accident, including a broken back. James clearly remembers realizing that he was not saved and asking God to let him live. After recuperating from his injuries, he soon forgot about God and continued life as usual.
Nine years later, from a sea of despair, James bottomed out, asking God to deliver him. He specifically asked God to show him that He was real. God did just that! He revealed Himself to James and led him to different ministries where he served and learned, in preparation for the next phase of his life.
James was led by God to become pastor at the Agape Worship Center. Although he cringed at the thought of being a pastor, his love for God prevailed and obeyed.
The one thing that stands out about James McCulloch is his zeal for God. His eyes light up with a genuine ray of delight as he stands by the door to say goodbye to all his members and visitors, after each service. You would think it was the first time he ever laid eyes on the people as he hugs, laughs, and gives words of encouragement to all that pass through. You can't fake this kind of sincerity or commitment. It's captivating to see the servile position that he so easily embraces. He doesn't claim to have arrived, in any sense of the word. But one thing he does claim and that is; he is having the time of his life on the journey with Christ.
Mrs. Darlene McCulloch, daughter of the Most High God, wife, mother of two, and grandmother of five. She is often reminded of meeting Pastor James McCulloch in school many years ago. The childhood sweethearts were married in 1978.
She was born and raised in the country by wonderful parents who loved their family. Darlene remembers being poor and the struggle her parents had to make ends meet. She cherishes those days and believes they made her the person she is today.
The struggle continued throughout the first years of her marriage to Pastor James. The marriage was rocky. Not only were the finances a problem but the relationship itself was very troubled. Divorce was on the horizon for sure, but God had another plan. In 1987 the couple was saved and 1988 they both received the precious gift of the Holy Spirit.
Darlene remembers how grateful they were for a new life in Christ. They both served in various ministries assisting other Pastors and their wives for years. In 1997 James became pastor of Agape and Darlene began her role as the first lady of Agape Worship Center in Hayti, Missouri.
Now Darlene is not your typical first lady as first ladies go. You will find her right in the mix of things, sleeves rolled up and hard at work on any given day of the week. She functions as CEO of the administration of Agape while maintaining a laidback servile position in every aspect of the ministry.
Still, Darlene has a true love for God and His calling on her life. She is open to change and growth, yet fights vigorously to keep God's plan for Agape as first priority. Although not aware of the vital role that she plays at Agape, she provides the structural element of cohesiveness to the entire body. Pastor James finds her work invaluable and considers himself blessed beyond measure to have her. You might search high and low and be hard pressed to find as willing a servant as Mrs. Darlene McCulloch.